Creative ways to cover a tattoo for your wedding
Thanks toFactoidz.com here are some other quick and creative ways to cover up tattoos on your wedding day: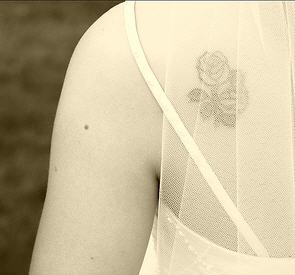 Crystal tattoo designs-
Crystal or rhinestone tattoos can be very beautiful. Some people enjoy wearing a crystal/rhinestone tattoo just for fun, while others use them to cover up recent tattoos. Crystal tattoo designs come in many different styles. You can find Filigree lace with heart shape, butterfly, star, or flower, crystal with glitter, or plastic body jewels.
Flowing wedding veil- The flowing wedding veil is very hot this year. This veil covers your shoulders almost like a shawl. So if you have a tattoo on the top of your back, shoulder blade or in the middle of your neck this would work great as a tattoo cover up alternative.
Wedding shawl, scarf, or wrap– These can help cover up a tattoo on your neck, shoulder, top or middle of arm, or even some areas of the chest depending on your wedding gown.
Flesh colored fabric or band-aid- In DWTS Melissa Rycroft's tattoo was covered up with a beautiful blue sequined fabric. Use a color to match your wedding gown or use a flesh color.
Chiffon jacket- These come in many different styles and can be worn with your wedding dress. Then you can take this off at your reception or leave it on until pictures are done.
Gloves- Wedding gloves will work great for anyone who has a tattoo on their finger, wrist, or arm. They come in many different styles and colors.
http://factoidz.com/how-to-cover-up-a-tattoo-the-day-of-your-wedding/
3 responses to "Creative ways to cover a tattoo for your wedding"